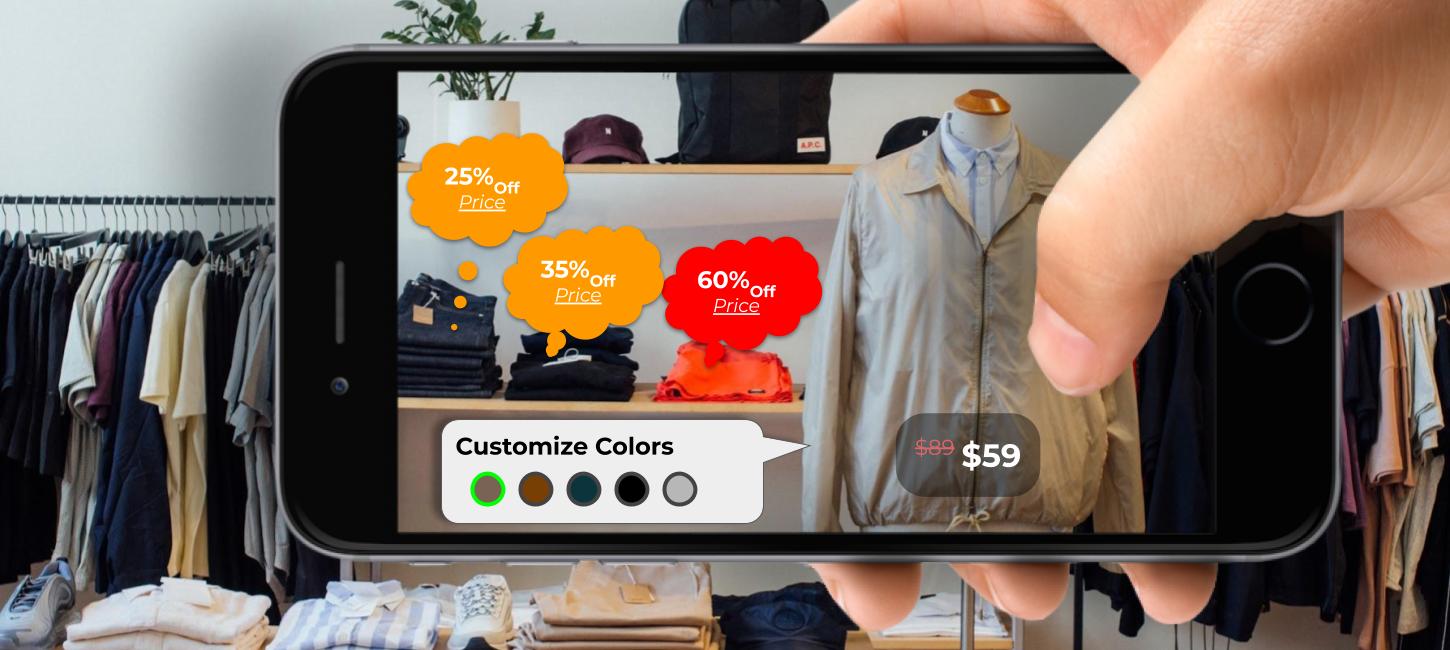 Augmented Reality in retail: Virtual try before you buy
Nino Aslanishvili, IBSU, MARKETING
In recent decades, the arrival of a virtual world or introducing holograms into the 'real world' was limited to science fiction films. Nowadays, however, companies make this a reality.
In virtual reality (VR), a person is placed in a computer-generated world. The idea behind VR is that you are separated from the 'real world' and experience the virtual world as being real.
In augmented reality (AR), the real world is augmented by computer-generated content. A well known example of this are the holograms as used in the first Star Wars films.
Both concepts are intended to blur the line between computer-generated content and the real world. A digital avatar, for example, no longer 'lives' only in a monitor, television or telephone but can also move around freely in the real world.
The possibilities for AR/VR technology for free trials and product testing are endless. Creating a virtual trial experience can save a company time and money, as well as increase the odds of a customer completing a sale. Rather than answering customer questions about a product with simple words, use augmented or virtual reality to show the customer what the item, service, or experience would be like for them personally.
Retailers are also beginning to use AR technology to reimagine the digital shopping experience with virtual stores. CROSTY, designer sneakers brand founded in 2015, has become a huge success in and outside of the country. The brand combines the traditions of Georgian shoemaking with bold designs that speak to creativity, progress, and above all, freedom. Georgian footwear may be bought from any part of the world in online format. However, CROSTY does not offer its customers AR try-on app. Implementing the brand into AR technology will improve customer experience and satisfaction.
A virtual shoe designer will create a 3D model of all the shoes in stock to give the customer a complete understanding of the item. Such 3D modeling and scanning for the footwear industry is a significant upgrade over traditional 2D images since it was impossible to view the shoes from all possible angles. All of these images would be loaded into a 3D virtual try-on app where the customer can try on the shoes in AR. Imagine the convenience of such technology that can offer online shoppers. First of all, they will be hesitant to purchase in fear or buyer's remorse. They are afraid that they will spend the money, wait for the shoes to arrive, try them on only to find out that they do not fit and have to go through all of the hassles of making the return. To top it all off, they might not even be able to get a refund. The virtual shoe sizer, VR foot tracking, and all of the other features help eliminate such fears, get the customer off the fence and go through with the purchase.
Since many shoppers are still hesitant to make the trip to a physical store location to try on the shoes in real life due to ongoing fears of contracting COVID-19, augmented reality footwear is a great alternative. You can shop from the convenience of your own home. If you would like to see how a particular pair of shoes would look on you, all you have to do is point your smartphone camera at your feet, and the AR shoes will appear on the screen. The app will also create virtual reality feet models to make sure the model is a good fit.
We also need to remember that consumers tend to pick out shoes that go with other items in their wardrobe. When they go to a physical store to try on the shoes, they can only see how the shoes will match the particular clothes they have on at the moment. However, augmented reality opens up a world of possibilities of mixing and matching shoes and outfits to see whether or not the shoes fit your style. By offering your customers such conveniences, you can significantly increase your conversion rates.
Using AR helps potential customers try particular shoes on for size, and buy them, without ever needing to step foot into a physical store. CROSTY within its virtual try-on app will use the smartphone camera to scan feet to determine shoe size, then filter sneakers available in that recommended size to buy. The AR shopping experience will also give the customers access to information such as item specifications, customer ratings, and comments via a digital display that will reinvigorate their shopping experience.
CROSTY will use AR infused shopping experience that reimagines how you shop online with an interactive experience that looks and feels futuristic, but is also easy to use. CROSTY's AR infused shopping app will perfectly blend the real-world with 3D images for a result that looks like something straight out of a big budget science fiction movie. To bring this experience to life, a 'futuristic store' will be assembled in urban areas or even on Mars – giving the feeling of freedom, as well as being a location for reflecting an idealized fusion between humans and future.
In addition, CROSTY will let you browse and place 3D holograms of select products from their online store into your environment to see how they might look in a room. You can look at virtual footwear and see how it matches your outfit before making the final decision to purchase. Using basic hand gestures, you will be able to move and place items. A quick swipe and the items are removed from your field of vision, giving you a clean slate to look at other products.
This is the age of experience, where consumers have come to expect more of everything. More engagement, more interaction and more effort from marketers. Traditional marketing methods such as poster campaigns on billboards or buses, TV advertising, embedded website ads and pre-play video clips like you see now on YouTube are decidedly outdated. These techniques only really work on a subliminal level, if that, because the truth is consumers have got very good at ignoring advertising. The game has changed to experience-based marketing, and that's no bad thing.
To conclude, immersive technologies such as Augmented Reality have the potential to break through those barriers by grabbing a consumer's attention, engaging them directly and exclusively for minutes at a time, and giving them a rewarding and personalized experience with the brand.