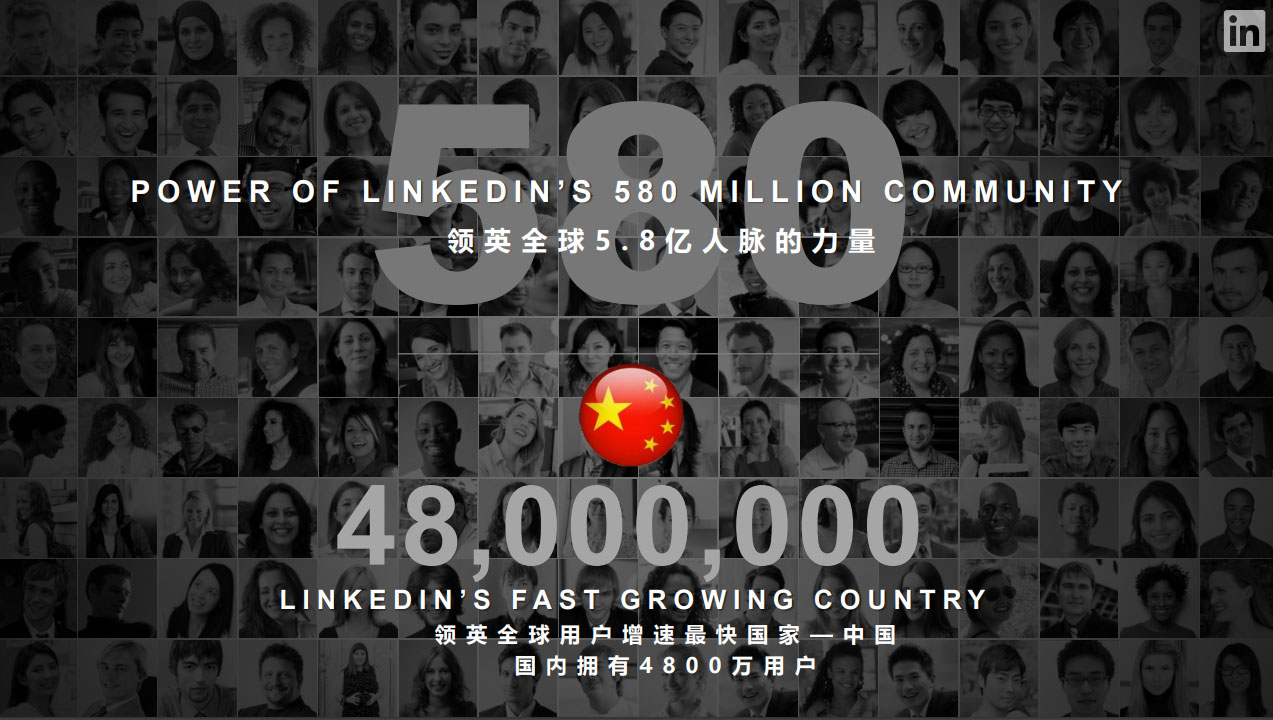 China and LinkedIn Marketing
Nino Gelashvili
LinkedIn is an American business, employment-oriented online service that operates via websites and mobile apps all over the world.  . Launched on May 5, 2003, the platform is primarily used for professional networking and career development, and allows job seekers to post their CVs and employers to post jobs. As for 2015, most of the company's revenue came from selling access to information about its members to recruiters and sales professionals.  Since December 2016, it has been a wholly owned subsidiary of Microsoft. As of September 2021, LinkedIn has 774+ million registered members from over 200 countries and territories.  It  is the world's largest professional network, built to help members of all backgrounds and experiences achieve more in their careers. Their  vision is to create economic opportunity for every member of the global workforce. Every day their  members use their products to make connections, discover opportunities, build skills and gain insights.  LinkedIn allows members (both workers and employers) to create profiles and "connect" with each other in an online social network which may represent real-world professional relationships. Members can invite anyone (whether an existing member or not) to become a "connection". LinkedIn can also be used to organize offline events, join groups, write articles, publish job postings, post photos and videos, and more.
LinkedIn also allows users to research companies, non-profit organizations, and governments they may be interested in working for. Typing the name of a company or organization in the search box causes pop-up data about the company or organization to appear. Such data may include the ratio of female to male employees, the percentage of the most common titles/positions held within the company, the location of the company's headquarters and offices, and a list of present and former employees. In July 2011, LinkedIn launched a new feature allowing companies to include an "Apply with LinkedIn" button on job listing pages. The new plugin allowed potential employees to apply for positions using their LinkedIn profiles as resumes.  LinkedIn can help small businesses connect with customers.In the site's parlance, two users have a "first-degree connection" when one accepts an invitation from another. People connected to each of them are "second-degree connections" and persons connected to the second-degree connections are "third-degree connections."This forms a user's internal LinkedIn network, making the user's profile more likely to appear in searches.
The operating environment in China has also become more difficult. Since President Xi Jinping took the reins of the Communist Party in 2012, he has repeatedly cracked down on what can be said online. Presiding over the rising power of the Cyberspace Administration of China, the country's internet regulator, Mr. Xi turned China's internet from a place where some sensitive topics were censored to one where critics face arrests for a constantly shifting set of infractions, like jokes at Mr. Xi's expense.
A few days ago we heard that LinkedIn is going to Shut Down Service in China.  They entered on China market in 2014.  LinkedIn also agreed to censor the posts made by its millions of Chinese users in accordance with Chinese laws, something that other American companies were often reluctant or unable to do. Even in 2014, LinkedIn acknowledged the challenge, saying, "LinkedIn strongly supports freedom of expression and fundamentally disagrees with government censorship. At the same time, we also believe that LinkedIn's absence in China would deny Chinese professionals a means to connect with others." Several years after Its business in China struggled as it ran up against major local competitors and a population skeptical about publicly listing valuable contacts.
In March, the regulator rebuked LinkedIn for failing to control political content, three people briefed on the matter said at the time. Officials required LinkedIn to perform a self-evaluation and offer a report. The service was also forced to suspend new sign-ups of users inside China for 30 days.       The site also suffered as the U.S. relationship with China soured, with anger about LinkedIn's complicity in China's information controls rising in Washington. In recent months, after LinkedIn stopped displaying the profiles of several activists and journalists in China, American lawmakers criticized the company.   LinkedIn is censoring profiles on its Chinese website of prominent journalists over "prohibited content" that is considered offensive to the country's ruling communist party.
The Microsoft-owned company sent emails to users — some of whom posted screenshots online — informing them that their profiles "will not be made viewable in China." The bans represent the significant "soft power" China's government yields as corporations chase a financial necessity to expand into the lucrative market. That often means complying with local laws and customs by blocking specific content or editing out bits of media the party may find unfavorable.  A LinkedIn spokesperson told Insider that the company "respects the laws that apply to us, including adhering to Chinese government regulations for our localized version of LinkedIn in China. For members whose profile visibility is limited within China, their profiles are still visible across the rest of the globe where LinkedIn is available."Reporter Melissa Chan posted her email on Twitter, which said the offensive content was located in the Publications section of her profile. Another journalist, Greg Bruno, posted his email on LinkedIn and was also not given any specifics. He told Insider that his book, "Blessings from Beijing: Inside China's Soft-Power war on Tibet," is listed on his profile and that "it seems clear that LinkedIn made the decision to choose profits over truth." And Axios  reporter Bethany Allen- Ebrahimian, who reports on China, said LinkedIn told her Summary section is where the offending content was housed. China has subjected hundreds of thousands in the Uyghur minority to brutal forced labor in concentration camps, where they are forced to abandon their culture for Chinese customs. Human Rights Watch said the nation is committing "crimes against humanity." Beijing has said they're merely "reeducation centers." And China has long contended that Tibet is part of the nation and has subjected rural Tibetans to similar treatment since 2016. As of late 2020, 15% of the Tibetan population was sent to harsh "military-style" training centers. The Party has characterized the practice as a way to fight poverty. Bruno told Insider that he is "dismayed that an American tech company is caving to the demands of a government intent on controlling access to information." Bruno and Allen-Abrahamian also speculated if the removals came from a LinkedIn algorithm or a direct order from China.  Allen-Ebrahimian said LinkedIn offered to review her profile after she updates it, but doing so would delete that content from her profile in every market, not just China's.  "LinkedIn appears to offer a free self-censorship consulting service," she wrote, later adding that she hasn't changed that section.  But she also pointed out that the company was merely doing what is standard in the business world by expanding into a new market and following the rules. LinkedIn acknowledged as much, according to the email Bruno posted.  "While we strongly support freedom of expression, we recognized when we launched that we would need to adhere to the requirements of the Chinese government in order to operate in China," the email reads.  LinkedIn has done this sort of thing before, when it told a writer with expertise in Chinese politics to remove all mention of the Tiananmen Square massacre, a historical event that China strives to downplay.
In one letter last month, Senator Rick Scott, Republican of Florida, wrote to Satya Nadella, Microsoft's chief executive, demanding to know why it had censored the accounts of three journalists. Mr. Scott called the censorship "gross appeasement and an act of submission to Communist China." Beyond the fights over censorship, other challenges loomed. A new Chinese data security law requires firms like LinkedIn to store more data on local users within China and provide access to the authorities, which may have raised even more ire.
LinkedIn also has served a separate purpose, as a recruitment ground for spies. Chinese intelligence services are among the most active at using it for that purpose, according to American officials.China is one of LinkedIn's largest markets, with 54 million users, behind only the United States and India.
As we mentioned ,where the internet is closely controlled by the government.  Twitter and Facebook have been blocked in the country for years, and Google left more than a decade ago. LinkedIn, which is owned by Microsoft, said it would offer a new app for the Chinese market focused solely on job postings. It will not have social networking features such as sharing posts and commenting, which have been critical to LinkedIn's success in the United States and elsewhere.