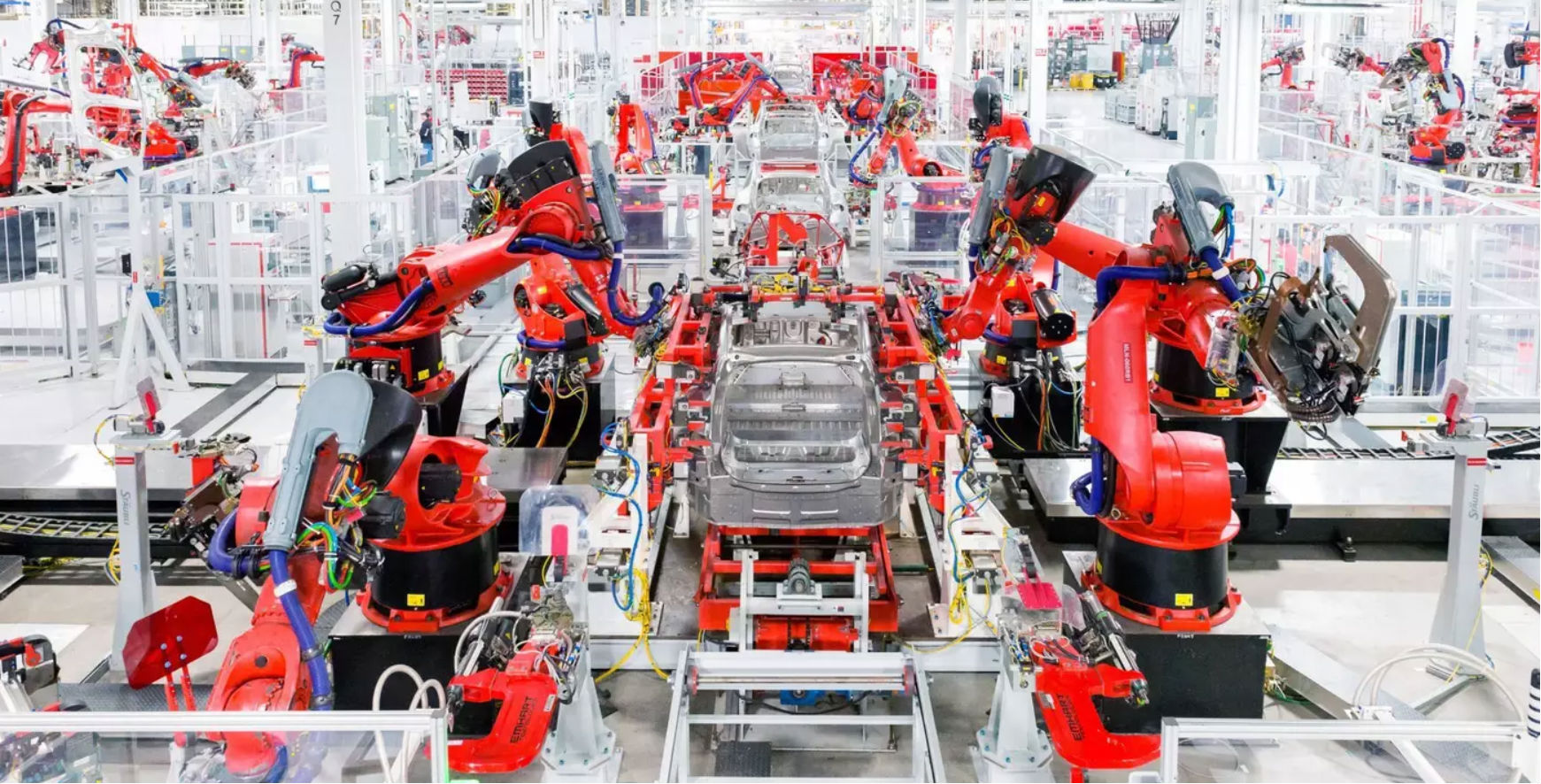 TESLA, opportunities and threats
Anna ghvaladze
Firstly, lets say what is TESLA. Tesla, Inc. is an American electric vehicle and clean energy company based in California.  Tesla Motors was founded in 2003 by a group of engineers – among them, the world famous Elon Musk. Tesla is therefore not just an automaker, but also a technology and design company with a focus on energy innovation.
In addition, what is Macro environment? It is the external environment factors greatly influenced the business success; strategies and decision making.Marketers understand and have an eye on development in the Macro Environment, to make their business grow in the long term. The segmentation of the macro environment according to the six presented factors of the PESTEL analysis is the starting point of the global environmental analysis. The six environmental factors of the PESTEL analysis are the following: political, economic, socio-cultural, technological, environmental, legal factors. . In this external analysis case, the political external factors are significant to Tesla and the automotive and energy solutions industries:
Governmental incentives for electric automobiles
New global trade agreements
Political stability in the majority of major markets
Political external factors present opportunities for growing the automotive business.
Tesla needs to address the following economic external factors that influence the automotive market:
Decreasing battery costs
Decreasing renewable energy costs
Economic stability issues
The price of materials is actually on the decline for Tesla. Particularly, the cost of batteries is lower, which is great for the company. The more popular their cars become to the public, the lower materials prices may drop. This allows for the possible creation of a more cost-effective vehicle for the public. That too can positively affect the price of materials. Results depend on the respective country's economy, of course. Any country with a declining economy will slice into the company's profits.
Social conditions and trends affect a firm's remote or macro-environment through employees, customers, and investors. The sociocultural external factors important in Tesla's business are as follows: Increasingly popularity of low-carbon lifestyles, increasing preference for renewable energy, improving wealth distribution in developing markets. People love idea of electric cars. Especially people who love eco-friendly things. An electric car eliminates need to use as much fuel as traditional car. That is of course better for environment. In addition, electric car is cheaper to use than a traditional one.
Tesla is in a great spot to implement artificial intelligence (AI) and automation into their vehicles. Many traditional cars are not built for such advancements, but Tesla makes sure their cars are ready to adopt the advancements. The following technological external factors are significant in Tesla, Inc.'s automotive business: high rate of technological change, increasing automation in business, increasing popularity of online mobile systems.
Ecological trends determine the availability of materials used in the company's production processes. In this case, the following ecological external factors affect Tesla's market: climate change, expanding environmental programs, rising standards on waste disposal. The cars are marketed as environmentally friendly because it uses electricity more than gas. Tesla vehicles abide by many environmental regulations and barely affect carbon emissions. By focusing on the environment, Tesla has made a name for itself where few can compare.
Laws and legal systems shape managerial decisions and business development. In the case of Tesla, Inc., corporate strategies must include the following legal external factors: expanding international patent protection, energy consumption regulations, dealership sales regulation in the United States. Tesla is expanding into other markets. They will need to keep up-to-date on their international patents. If not, expanding will take longer. Legality issues may also intercept it.
Now talk about opportunities that TESLA have. The most significant opportunity for the company right now is the Asian market, which is still unsaturated in the field of automotive and renewable energy markets. Especially in the situation where Tesla needs to expand its global market to increase its financial stability and stronger market presences.
Recently, Tesla has launched Model 3, which is a more affordable version of Model S with less range, power, and fewer features. However, it is an excellent opportunity for Tesla to expand the size of their audience market. Tesla intends to make its own battery cells. The move can be a big game-changer, as it will help the company to increase its manufacturing rate while reducing its production cost.
The stock market has shown confidence in Tesla after seeing two consecutive profitable quarters. The price of Tesla stock has doubled since the start of this year.
What is Tesla's Threats?
The threat factor stops the company from taking full advantages of the benefits that can be derived from the available strengths. Therefore, these are the few threats, which Tesla faces to maintain the business despite the unpredictable conditions of the market.
Despite Tesla's premium quality and high standards of manufacturing, the automobile industry, in particular, is accustomed to facing significant product liability claims which the company's fears to be one of the biggest financial blows. Tesla has launched many autopilot vehicles, and not all of them have been successful in case of an accident. The company has faced lawsuits and claims related to the failure of technology in their products.
Tesla, Inc. faces big competition from both alternative fuel vehicles (Hybrid, Plug-in hybrid, fully electric car) and self-driving technology. Many automotive brands in the luxury segment like Mercedes, BMW, Audi, Lexus and in the economy segment like Toyota, Ford, Volvo, General Motors are getting ready for a fierce competition. Many brands are not only launching or planning to launch their environment-friendly/ self-driving technology but also, they are offering them at a comparably lower price. It is a definite threat for a company like Tesla, which thrives on its unique value for innovative cars that are extremely expensive and unaffordable for many.
Due to highly complex engineering for innovative vehicles, Tesla's cars and other energy products have exhibited major flaws in many cases. The defected products often have weaknesses in design, manufacturing, and other features that can harm the company's image permanently. Tesla, due to its unstable manufacturing conditions, suffers from disbelief among the public about its long-term existence, which can result in a deficiency in further business development.
Self-Driving Cars Are Still a Concern for Pedestrians. US adults still feel unsafe, to walk around self-driving cars. Especially, people above the age of 55 are the most afraid to be around self-driving vehicles.
Tesla uses lithium-ion cells in their battery packs. Lithium is a highly reactive and explosive element, which increases the risk factor of our products. Tesla has faced a few cases where their cars have caught fire and vented smoke, which has defamed the company on a major level.
Tesla's entire reputation is built upon the revolutionary personality of Elon Musk. Recently, his strange behavior and impulsive reactions are affecting Tesla's worth as an iconic, innovative brand. Recently his marijuana-smoking incident on Joe Rogan's podcast created controversy for being inappropriate. Subsequently, Tesla's stock value dropped close to 9 percent by this unexplainable behavior from a man who is a visionary genius.
Describe Micro Environment of ZARA.
The microenvironment is basically the environment that has a direct impact on your business. It is related to the particular area where your company operates and can directly affect all of your business processes. In other words, it consists of all the factors that affect particularly your business. They have the ability to influence your daily proceedings and general performance of the company. Still, the effect that they have is not a long-lasting one.
ZARA is a Spanish apparel retailer based in Spain. The company specializes in fast fashion, and products include clothing, accessories, shoes, swimwear, beauty, and perfumes. It is the largest company in the Inditex group, the world's largest apparel retailer.
The different factors that will be looked at when analyzing Zara's microenvironment include its; resources and capabilities, employees, suppliers, customers, competitors and their market positioning.
Zara is a successful fast fashion, customer focused and sustainable retailer that makes stylish and classy designs based on current trends. Zara have 162 450 employees worldwide and 383 in South Africa, and according to the company, they focus on growing their internal talent, by creating a working environment whereby their employees can be critical thinkers, voice their opinions, are hardworking, and are constantly looking to learn new things . They have also created a document called the Code of Conduct and Responsible Practices, which set out the conduct for Zara personnel to follow in order for them to perform their professional duties. According to a vast number of Zara employees, key pros of working at Zara include; friendly co-workers, the good salaries, opportunity to learn more about the fashion industry and the opportunity for growth.
it is important to note that Zara's parent, Inditex, have over 1,725 suppliers in over 50 countries and 60% of the production by their suppliers is done close to their Spanish headquarters. Zara have also created a Code of Conduct for Manufacturers and Suppliers to ensure that their production chain complies with relevant labor laws, ensuring the safety of their products as well as the environment and lastly, to ensure complete traceability of their raw materials . In order to ensure compliance, Zara conduct audits over their suppliers. Additionally, they provide a brief overview of their supplier's compliance in their financial statement.
Zara have dynamic capabilities as they have developed new capabilities that allow them to have an advantage over their competitors. These capabilities of Zara lie specifically within their value chain, where a value chain refers to the value that is added at each chain of activities within an organization. Zara has an affordable fashion that comes into stores within 2 weeks. Within the fast–fashion industry, there is overwhelming evidence that refers to the three top brands as Zara, H&M and Uniqlo . However as Uniqlo do not operate within South Africa; they cannot be considered a close competitor for Zara in South Africa. However, other key competitors that operate in the fashion industry in the South African market include; Topshop, Forever 21, Mr Price, Woolworths and Cotton On. Topshop is a premium international fashion and beauty retailer that originates from London, England. How they differ from Zara is that they focus on providing more individualized styles that are still trend led, but are more edgy and experimental than that of Zara. Additionally, Topshop have a premium price in comparison with their fast-fashion competitors.
Zara is introducing an augmented reality experience in its stores. Shoppers can engage their mobile phones to see models wearing selected fashions when they click on sensors in the store or displayed on AR-enabled shop windows. Initially launched in 120 stores worldwide, such technology is irresistible digital-honey to draw millennials into the store and shop. Creating customer curiosity is a most powerful pull marketing strategy. Every human being is innately programmed to satisfy it. With this new AR application and in so many other ways, Zara excels by pulling customers into the brand, unlike its closest competitor H&M, which remains fixed on pushing its brand and product out to the customer. Today the customer, not the company, calls the shots. Zara involves the customer interactively in the decision-making process. That is the Zara difference.
Establish Demographical Segmentation for Georgia, and divide Georgian citizens as Baby boomers, Millennials, Generation Y and Generation Z, please also divide Georgian companies serving them.
| | | | | |
| --- | --- | --- | --- | --- |
| Age group | Male | Female | Total | Percent |
| 0-14 | 394 400 | 362 400 | 756 800 | 20,35 |
| 15-64 | 1 186 000 | 1 220 200 | 2 406 200 | 64,68 |
| 65+ | 210 100 | 347 100 | 557 200 | 14,97 |
This table above illustrates demographical segmentation based on age and gender. One of the most important variables for demographic segmentation is age. A generation is a set of people who were born during the same era, grew up with the same type of experiences with some geographic segmentation. For example, baby boomers are those born between 1946 and 1964. People born in this generation have certain similar characteristics and thought processes. People in generation X were born between 1965 and 1981. Millennials or gen. Y are those born between 1982 and 1994. Gen Z is the newest generation, born between 1997 and 2012/15.
Baby boomers current age is 57 to 75. Baby boomers are the biggest consumers of traditional media like television, radio, magazines, and newspaper. Despite being so traditional, 90% of baby boomers have a Facebook account. This generation has begun to adopt more technology in order to stay in touch with family members and reconnect with old friends. This generation prefer to use cash than cards.
Gen X current age is 41 to 56.  Gen X still reads newspapers, magazines, listens to the radio, and watches TV (about 165 hours' worth of TV a month). However, they use social media and spend about 7 hours a week on Facebook. Gen X do some research and financial management online, but they still prefer to do transactions in person. They believe banking is a person-to-person business.
Millennials current age is 25 to 40.  95percentage still watch TV. This generation is comfortable with mobile devices, but 32% will still use a computer for purchases. They typically have multiple social media accounts. Millennials are progressive, transparent, pragmatic idealists, flexible, technologically perceptive generation.
Gen Z current age is 6 to 24.  The average Gen Z received their first mobile phone at age 10.3 years. Many of them grew up playing with their parents' mobile phones or tablets. They have grown up in a hyper-connected world and the smartphone is their preferred method of communication. On average, they spend 3 hours a day on their mobile device. They have a strong appetite for financial education and are opening savings accounts at younger ages than prior generations.
Millennials and Gen Z require customer service, which is authentic and provides swift resolution to their product and service inquiries with integrity and using the last technology. Although they want responses via smart devices and prefer self-service, they also demand live agent contact.
While you cannot be the perfect fit for every consumer, you CAN learn what appeals to each generation and use it to shape and diversify your strategy. Understanding that the Baby Boomer Generation values quality, so they are willing to spend a little more on a product they feel is high-end and lasting may also help shape strategy.
Georgian companies focus on optimizing television advertisement to target baby boomer generation; because people aged, 57 to 75 mostly watch TV. Their content is interesting, relevant and timely to attract baby boomers.
To market Gen X Georgian companies try to be authentic, because this generation look for safety and security, so it is important for these companies to be honest and upfront. In addition, digital mailing list is a great tactic to reach Xers. Nowadays more and more people from this generation use Facebook, so companies make ads on Facebook.
Companies' whose websites are up to synchronize with the latest social media trends and platforms, they are more likely to interest a millennial. They tend to be least patient generation, they want their information quick. They are in a world with limitless options. They like a good sale, and will most likely compare prices in order to get most bang for their buck.
The best way to reach Gen Z is not through Facebook. Studies show that middle aged Gen Zers are leaving Facebook because it is too ,,old school''. So now, companies use Instagram instead of Facebook. Best tactic is to target their older family members since parents still make financial decisions for Gen Z children and teens. The best way to reach them is not only through the brand, but though a great product. The most important thing that companies take into consideration for marketing to Gen Z is to stay current on social media platforms and trends. You can never be too "social media" for Generation Z.