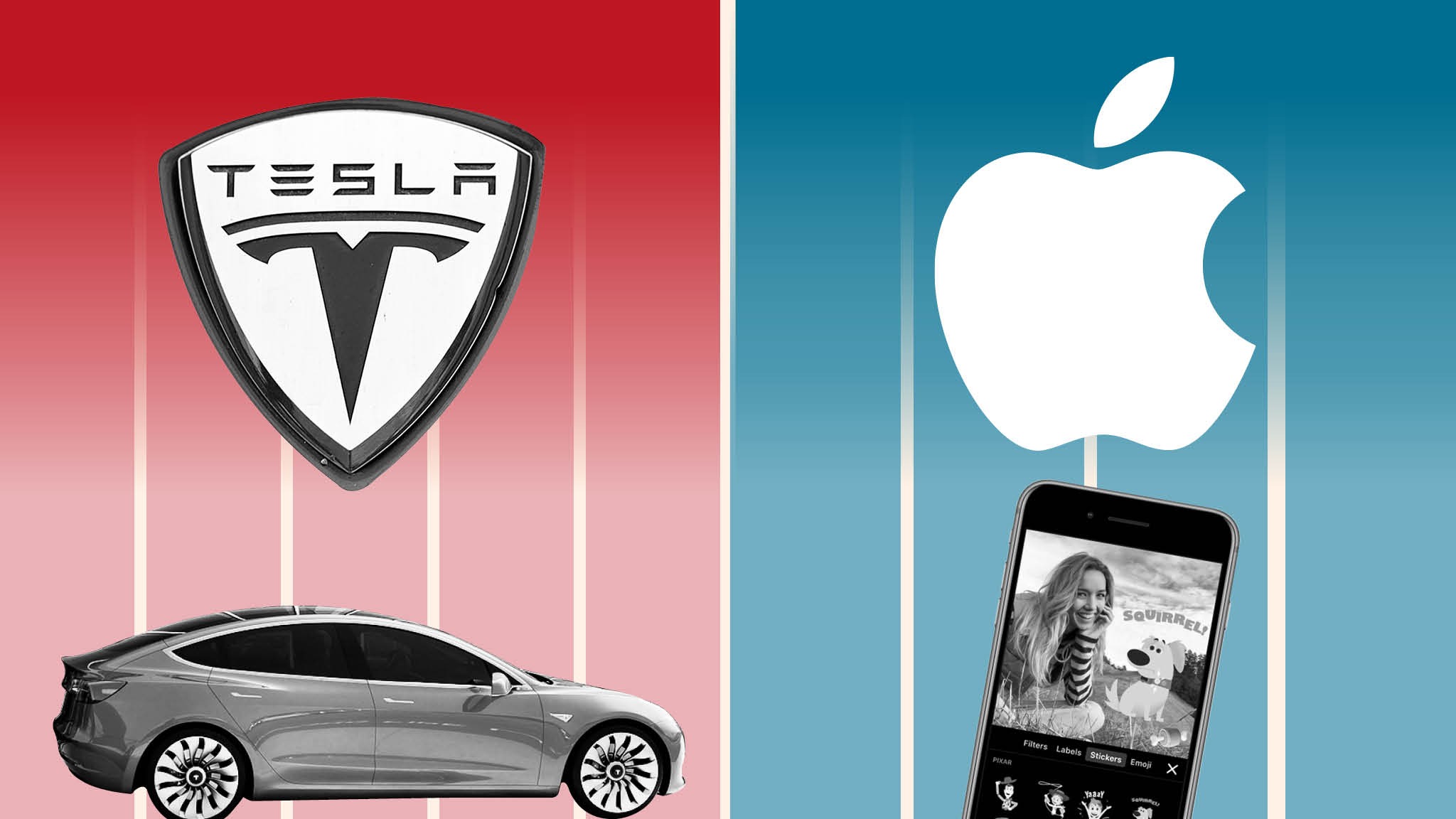 TESLA and APPLE – Marketing Environments
Anamaria Katcheishvili (17100231)
Tesla is the American company founded by Elon Must for electric vehicles and renewable energy. Current products include hybrid vehicles and battery energy storage ranging from the home to the grid scale.
The primary 6 macroenvironmental factors are as follows:
Demographic– Tesla Model S and X user has a median age of less than 54 years, comparison with the United States' population of 38. Model X owners have a greater proportion of woman owners. Women have 29% of Model X cars and men have 71%. The race of the owner of Tesla is 87% in relation to the Caucasians. Eight percent of Tesla's owners register with Hispanic heritage, leaving five percent to other nationalities.
Economic- Tesla would discuss the following external economic conditions affecting the car market: Battery rate reduction (opportunity) Reducing the cost of renewables (opportunity) Problems of economic stability (threat). The business was founded by Tesla's founder and CEO Elon Musk with the goal, "to speed up the development of sustainable transport and to launch strong mass electric vehicles into the market as quickly as possible." 1 This is the foundation of the popular company concept of Tesla.
Political- Tesla has the chance to improve its financial results through government incentives. This external influence contributes directly to the company's negligible greenhouse emissions. Moreover, the expansion of free trade deals offers Tesla the opportunity to extend globally its activities. In the other hand, the policy continuity of major markets benefits the company's market expansion policies related to the isolated or macro-environments.
Ecological – The following external ecological considerations influence the demand of Tesla in this case: Shift in climate, Enlargement of sustainability programmes, Elevated waste management requirements.
Socio-Cultural- Low-carbon lifestyles are increasingly common, increased green energy choice, improved allocation of capital on emerging economies.
Tesla has growth prospects dependent on the acceptance and demand for clean energy in the low-carbon lifestyles. These external factors increase demand on the electric vehicles and associated goods of the business on the market. Moreover, Tesla is able to improve its financial output on the basis of the increased distribution of capital on emerging markets.
Technological- High pace of transition in technology, Increased business automation, The popularity of mobile online systems is rising.
Opportunities of Tesla: Untapped sales increase, cheaper cars, taking battery manufacturing technologies in-house, pick-up trucks launch, tesla's consumer confidence.
Threats of Tesla: Product liability claims, widespread competition, product flaws, long-term trust, customer accommodation, self-driving vehicles continue to be of concern to pedestrians; Supply disturbance caused by material scarcity, high risk factors caused by lithium ion, lack of self-driving rules, unpredictable behaviour of Elon musk impacting the prestige of tesla.
Micro environment of Apple
Apple was founded in 1976 by Steve Jobs and his friends as an american multinational corporation.
Apple's creative goods are well regarded on the global market
Apple includes: Mac, iPod, Apple watch, iPad, iPhone, Apple watch shop and iTunes.
Innovations are behind the company's growth and all the Apple offers are a step forward.
Human capital: Apple is mindful that without successful control of human resources any organization's success cannot be accomplished. Per Apple employee has specific roles assignments. The managers train their staff members and provide assistance, recruitment, and organizational development in order to encourage customer loyalty.
Suppliers: Apple has a strong base of suppliers with high negotiation leverage for the brand. The company's manufacturers are in various parts of the globe. By coordinating skill building and training programmes, Apple believes its suppliers will be empowered. A sound and close association with the vendors helps businesses to effectively control the supply chain and achieve competitive advantages.
Customers: Apple offers high production, creative technologies, outstanding working conditions and fair prices to its consumers. Through effectively overseeing all operations, including procurement facilities, product development, consumer retail and after sales services, Apple has achieved customer loyalty
Competitors: Apple is operating in very competitive market. Major competitors of Apple are Samsung, Microsoft and Google. In Smartphone market Motorola, HP, HCL and Blackberry also giving competition to the Apple.
Publics: media, government, financial bodies, and other general public falls into this factor. Apple is effectively dealing government bodies by adhering with all rules and regulations established by the authorities. Media may have mix opinion towards Apple by criticizing its products.