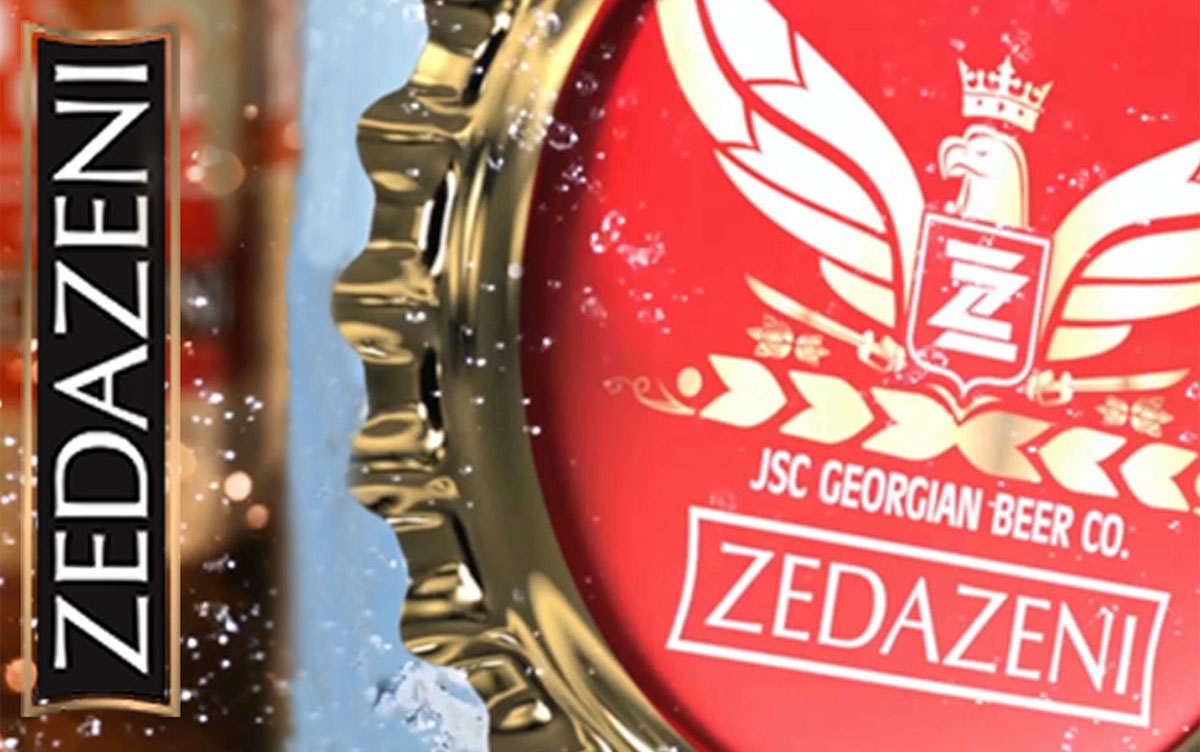 Georgian Beer Company Zedazeni
Natia Kakulia
MEO 2021 III Place
Prof: Kakhaber Djakeli
Beer is the oldest and one of the most popular alcoholic beverages in the world. Today the beer is a global business with many multinational companies and thousands of smaller breweries. Georgian Beer Company Zedazeni is one of the leading producers of alcoholic and non-alcoholic beverages in Georgia. Zedazeni brewery is equipped with the most up-to-date equipment from the best European producers. It was founded in 2011, and since then the popularity of the brand started to record a healthy growth rate.
If the company is desired to continue its rapid growth, it has to take into consideration the customers' needs, wants, and demands. In general, people demand the company Zedazeni to be consistent in quality, however, the majority of them would prefer the taste of beer to be less bitter. Before we further discuss the needs and wants, first it is important to understand who are Zedazeni's customers. Market segmentation can help businesses determine that and help choose the correct marketing strategy.

As we can see from the charts, the majority of Zedazeni customers are men and the majority age is 25-50. This segment of market purchases the most products, but Zedazeni does not exclude other segments and takes their opinions into account. Selling alcoholic beverages to teenagers is prohibited by law in Georgia, however to include them in the market, Georgian Beer Company Zedazeni released beer with 0% alcohol content.
Building and maintaining a strong, consistent brand is fundamental to any marketing strategy. In 2021 if companies want to be successful, they have to adapt their marketing strategies to the global pandemic, and the restrictions imposed by the government. With the closure of bars, clubs, restaurants, and hospitality-related venues, beer brands need to look for new ways to engage with consumers. The easiest way for Zedazeni brewery to build stronger brand awareness and attract new customers is content marketing. Zedazeni has already mastered Facebook marketing, it uses the platform to connect with customers and businesses. The posts have huge benefits on promoting the brand and spark engagement in different ways.
Another marketing strategy Georgian Beer Company Zedazeni can use is virtual tours of Zedazeni brewery or virtual beer festival. Today's world has taught us that everything is possible with the right platform, and I believe that this kind of activity has never been done before in Georgia, thus it will be innovative and I think people will show a huge interest. Zedazeni could organize a platform, where customers will be able to visit Zedazeni brewery virtually, see the process of making their favorite beer, and be gifted 10% or 15% sale on their next purchase. This will ensure that customers choose Zedazeni over any other brand.
Promoting a brand or product is an integral part of product popularity and success. Not every advertisement convinces customers to check out the product or service it promotes, but it is not the case with Zedazeni advertisements. Georgian Beer Company Zedazeni tries to make sure that its advertisements are well-designed and fascinating. People are interested in how the story in each advertisement would continue, so they are more likely to watch it till the end.
Furthermore, Zedazeni linked its beer to Georgian history in their advertisements and that also was a big success, because Georgians felt special. For example, Zedazeni had an amazing advertisement about our miraculous victory in 1121, in which Kind David IV is shown, while giving an order to block the road so no one retreats. Every Georgian is proud of the bravery our soldiers had and that advertisement undoubtedly made the beer more special for customers.
Brand loyalty is a key factor in customer retention. It ensures that the company will have consistent repeat purchases over time, regardless of price and changes in the environment. New customers are important for businesses, but what is the point of acquiring new customers if you are not able to retain them? Georgian Beer Company Zedazeni should focus more on creating a positive customer experience because the service a customer receives during a purchase determines whether or not they will continue to support this business. Customer loyalty programs are also very important, because they are effectively used to increase purchase frequency. If Zedazeni had a customer loyalty program, for example if the company launched a card, on which customers could collect points by purchasing Zedazeni products and afterwards get additional discounts for next purchases, then this would bring Georgian Beer Company Zedazeni trust and love from the customers.
Keeping in touch and asking for feedback is also crucial for customer retention. As Bill Gates stated: "Your most unhappy customers are your greatest source of learning." Companies should always ask for feedback because this way they can understand what customers like or dislike about the product, what they would prefer to change, and what innovations they expect from the Georgian Beer Company Zedazeni.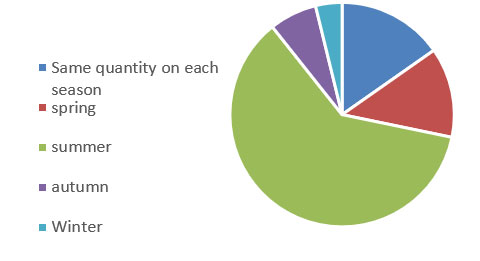 Marketers devote their time, effort, and all possible resources to improving content and providing the best customer experience possible. However, to ensure the company's long-term success, they should include measuring customer lifetime value in their marketing strategy. Georgians tend to buy more beer in summer, than in other seasons. Thus, we can predict that the number of purchases would increase during the summertime.
Making better products and reaching a greater audience is easier for companies when they have partners. Georgian Beer Company Zedazeni has many partner companies, and in the first place, I would like to discuss some partner markets: Spar, Nikora, and Europroduct.
This partnership is advantageous for both markets and Zedazeni. Markets receive products to stock their stores with, and customer's experience of purchasing Zedazeni beer becomes easier and faster. This undoubtedly is beneficial for Zedazeni, because it increases the number of purchases.
Georgian Beer Company Zedazeni also has a partnership with Glovo, a Georgian delivery company. During the pandemic, when everyone is trying to keep social distance, it is crucial that customers are able to order products without leaving their houses. Thus, being partners with the delivery company was advantageous for the Georgian Beer Company Zedazeni.
Creating meaningful value for customers is part of value-driven marketing. A great example of this was when Georgian Beer Company Zedazeni invited famous football player Lothar Matthäus in Georgia. This way Zedazeni linked its beer to football, and they commented later that they did not do it to advertise their brand, this was just a gift for Georgian football fans. Which, in my opinion, increased the value of a product.
Another strategy Zedazeni used to create value of their products is the contest they created for the Lemonade Zedazeni, in which children were able to participate and they had the opportunity to become the face of Zedazeni Lemonade. This undoubtedly made the Lemonade more popular among children.
In order to develop businesses, Strategic planning is crucial. It provides a sense of direction and outlines measurable goals. In today's world, strategic planning is more important than ever, because it focuses attention on the crucial issues and challenges each business faces because of the pandemic. Strategic planning and preparing positioning maps go hand in hand. Strategic planning
The first thing involved in Strategic planning is determining strategic position of the business. Zedazeni is well-known brand in Georgia, many people trust this brand and purchase the product. Thus, Zedazeni is successful and has an advantageous strategic position. Next is prioritizing objectives. Zedazeni does not only produce beer, it also has lemonade, RC cola, water, cold tea, energy drinks and natural drinks. It goes without saying that if the company devotes its resources to all of them, none of the products would develop properly. Companies need to set priorities, Zedazeni is more concentrated on developing beer. Because of high demand, recently Zedazeni recently released beer which has higher alcohol content. This is a great example of strategic planning and product development.
Mission statement and business plan are the most important things in starting the business. Right mission statement helps businesses set goals and find new ways to achieve them. When Georgian Beer Company Zedazeni was founded, its mission was to become the leader of Georgian beer and beverages' industry. We can say that partially Zedazeni achieved its mission, because it is among the most popular brands in Georgia.
Now, let's discuss business portfolio of Georgian Beer company Zedazeni. The company has recently won Golden brand award in Georgia, this is a proof that customers appreciate their products. Zedazeni brewery has no second-hand or low-grade analogues equipment, they have first class European machinery. Electronic measuring and controlling equipment prevent mistakes.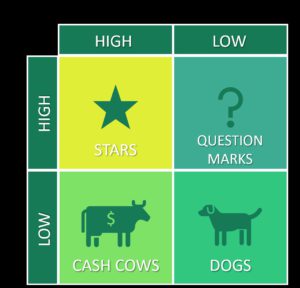 Businesses need to consider growth opportunities all the time, they can do it by reviewing their BCG matrix.
The star product of Zedazeni product portfolio is beer, as this product has rapid growth and dominant market share. Beer is leading product of Georgian Beer company Zedazeni. It is also exported in more than 20 countries, even during the pandemic, export has increased by 55%. That is because the number of counties Zedazeni beer is exported increased, and Georgian beer starts to become popular in foreign countries.
Cash cow products of Georgian Beer Company Zedazeni are RC Cola and Energy drinks. These products have big market share and the company does not have to invest much in the business, apart from the initial outlay.
Question mark products of Zedazeni are Graffini and water Zeni. Both products are in high growth markets with low market share.
Lastly, dog product of Zedazeni is Ice Tea Baiho, this was produced in 2015, and still has not acquired bigger market share and operates in quite a slowly growing market. A tool used by firms to analyze and plan their strategies for growth is Product/Market Expansion Grid. This includes four strategies, as shown in table below.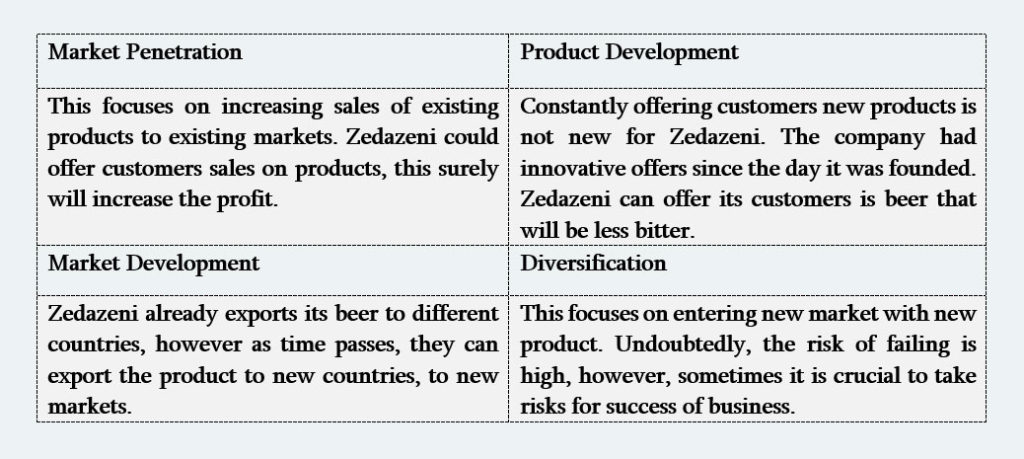 Next thing I want to discuss in this essay is the four Ps of the marketing mix. It is a model to help the business define their marketing options in terms of price, product, promotion and place, so that the offerings meet customers' needs, wants, and demands.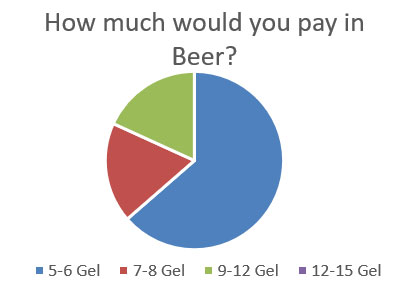 Price is the most important thing in product, because if customers cannot afford it, the demand would decrease. As research showed, Customers demand from Georgian Beer Company Zedazeni sales on their products.
Second is product, customers want low prices, however quality is more important for them than the price. They are willing to pay higher prices to receive good taste and quality from Zedazeni. So, we can say price and product are equally important.
Next is promotion, and in my opinion, Zedazeni's way of promoting their product is efficient and effective. This includes social media posts, interesting advertisements and connecting their beer to football. Those are part of creating strong brand equity and it plays a significant role in Zedazeni brewery's long-term sustainability.
Place is also crucial for companies. If Zedazeni products are not in easily reachable, popular markets, demand will not be high. As already mentioned, Zedazeni has partnership with some popular markets and also delivery company.
Every company needs to understand the marketing environment, because these factors influence businesses. It consists of macro and micro environments. Macro environment includes factors that cannot be controlled by the business and these factors include: technological, natural, political, economic, demographic and cultural. Let's discuss how each of them affects business. First are technological factors, if new technology is invented, that will reduce the costs of producing beer, this would be beneficial for Zedazeni, because they will have higher profit. Political decisions also affect businesses. For example, if the government reduces taxes, companies will have more money left for developing new products. Economic factors in my opinion are the most crucial, because if the country is not economically strong, people will avoid spending money on products that are not necessities. Cultural factors have also big influence on businesses. For example, Georgians tend to drink beer with one of the most popular dishes in Georgia, Khinkali. This means that our culture helps Zedazeni to develop and be more successful.
Micro environment consists of competition, marketing, customers publics and intermediaries and it is as important as macro environment. Natakhtari is one of the biggest competitors for Zedazeni, they compete in customers and resources. Marketing is also important, because right marketing creates value and influences the decision-making process of customers. Each business produces goods and services to reach out to more customers and maximize profit. So, serving customers and public correctly is crucial. I think Zedazeni takes the demands and wants of customers into consideration, and offers them new, innovative products all the time.
Values and lifestyle, (VALS) is a research methodology, used for psychographic market segmentation. 63% of beer customers are married people, and 78% of them say that they drink Zedazeni beer more often than any other alcoholic drink. Companies need to see their products from customers' eyes, this is why they must prepare positioning maps. Marketers prepare them by surveying customers and after making graphs from the results. Below the positioning map of Zedazeni is shown, in which Zedazeni products and competitor companies are shown.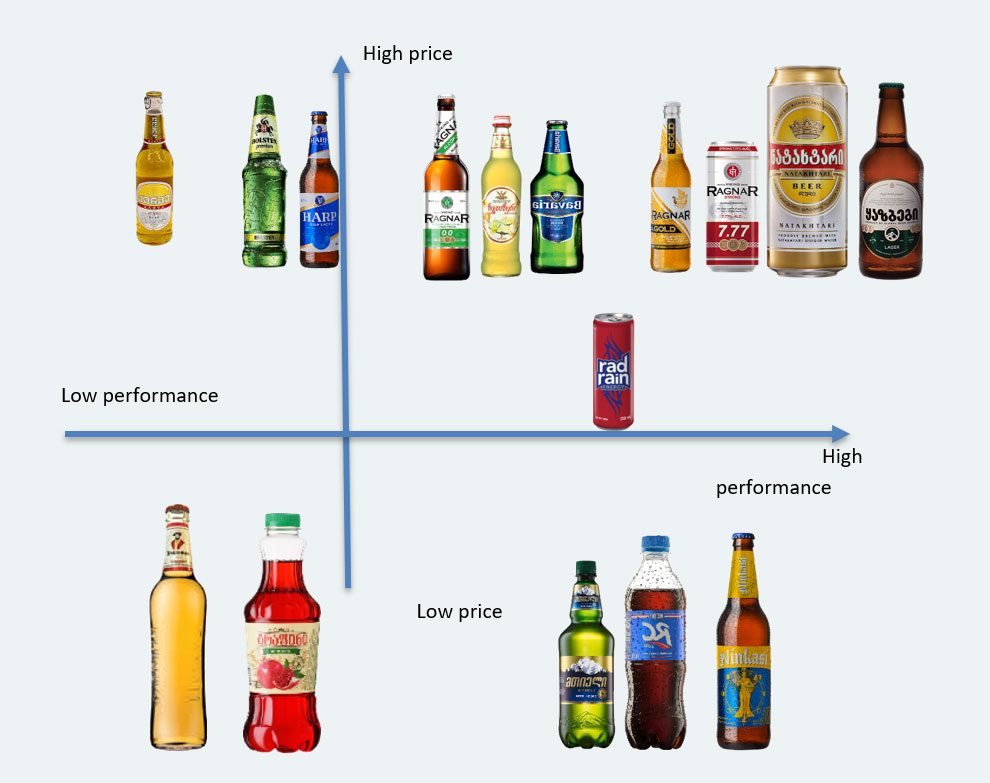 The graph shown above is positioning of products and competitors of Georgian Beer Company Zedazeni, However, the full positioning of brand, also known as value proposition is full benefits customers can have. Describing the full positioning of Zedazeni product is shown in the table below.
In the table, the graphs colored in green means that they have winning value propositions. Red means that those strategies have losing value propositions and yellow means that nothing changes, because it is the same benefits for the same price.
Because of that, in this essay, only strategies that have winning value propositions will be discussed. It goes without saying that if companies offer customers the same or less benefits for higher prices, the demand from customers will decrease and this will cause the profit of businesses to decrease as well.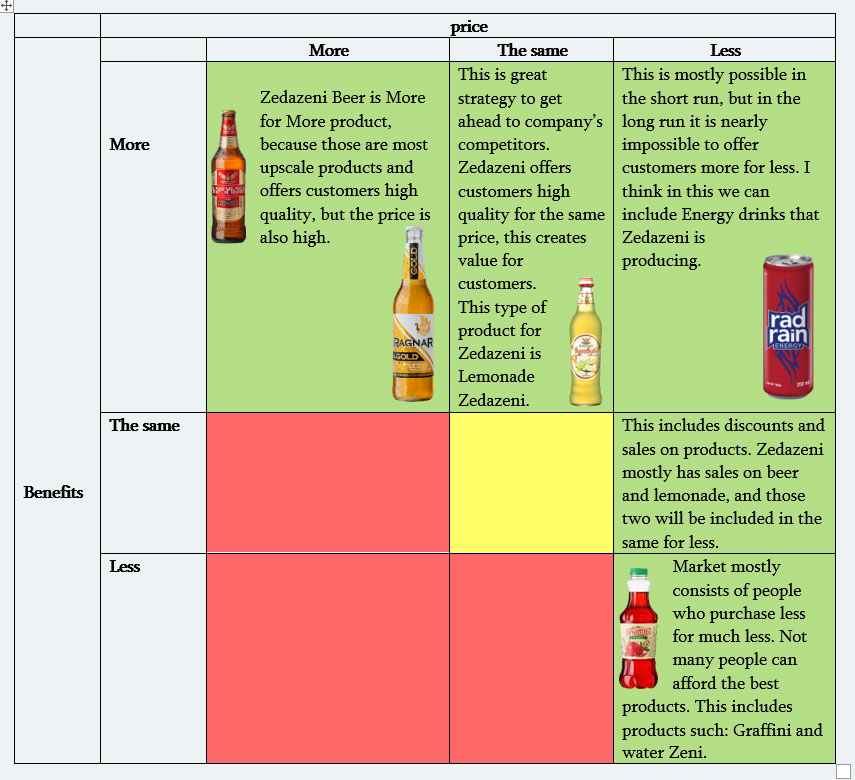 Those above-mentioned strategies: market segmentation, targeting and positioning are part of designing a costumer value-driven marketing strategy.
Last but not least, Customer relationship management (CRM) is also important. It helps companies manage all their relationships and interactions with customers and potential customers. Zedazeni collects data from different social medias, Facebook, Instagram, YouTube, Gmail. This way they can analyze the target audience and understand more about the customers' needs, wants and demands.
In conclusion, Zedazeni is one of the most popular beer breweries in Georgia, and has high market share. The brewery is among the best and most popular beer producers in Georgia. Zedazeni advertisements have also big influence on buyers' choice, as they are interesting and memorable. To continue the growth trend, Zedazeni has to keep listening to customers and take into consideration their wants and demands.